Other Memories of Dau Tieng by Tony Adams
By Arnold Krause on Apr 30, 2012 | In Welcome, Location
Other memories of Dau Tieng by Tony Adams Bravo 2/12 Feb68-Feb69
As I recall there were no bunkers close by except the birm line surrounding the base camp.  There was a command bunker but it was only open to communication and staff officers.  Some of the huts were more permanent in nature and all were being rebuilt with wood rather than tents.  Here is a picture of William Tealer RTO on left and I can't remember the name of the SGT on right.  It shows the sand bags, which were built about 4 feet high around the tent. As an aside, Tealer was the RTO for the3 man point element consisting of David Rosenberger and Larry Osborne on 4 Apr 1968 and the only one of the three to survive the initial contact of that point element for Bravo Company.  My memory tells me that he was from New York but I have never been able to make contact of find any record of him.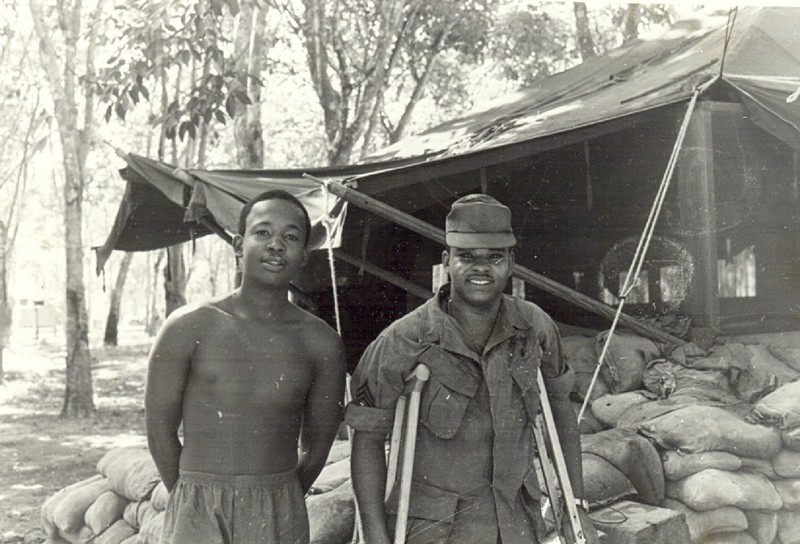 This picture was before the 4 Apr contact and I don't think he had the same innocent face later.  I only hope he led a peaceful and calm life after returning to the world.
This picture shows the structures before the sand bags were placed. 
This was taken as we were about to leave for the airfield or be picked up by truck to go outside the wire. I'm on the left and I can't remember the name of the guy on the right.  We did quite a bit of daily work f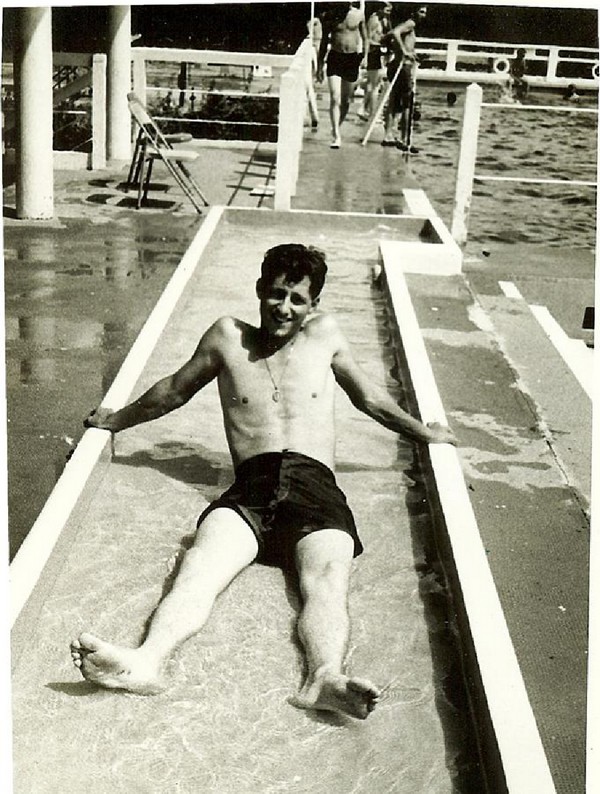 rom Dau Tieng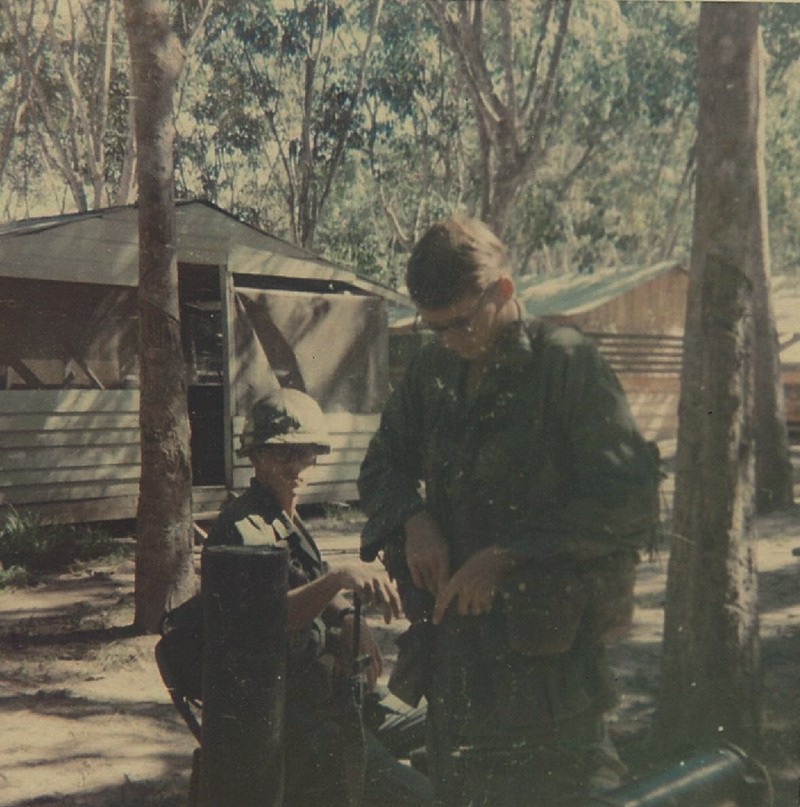 sometime during March and April. As I recall there was always a company or two back at base camp as ready reaction force and it was done on a rotating basis.
I remember the Pool well as it was a welcome relief from the heat when we were back in base camp.  This picture shows some of the pool area.  As Arnold said in his story it was a raised structure left over from the French Colonization era.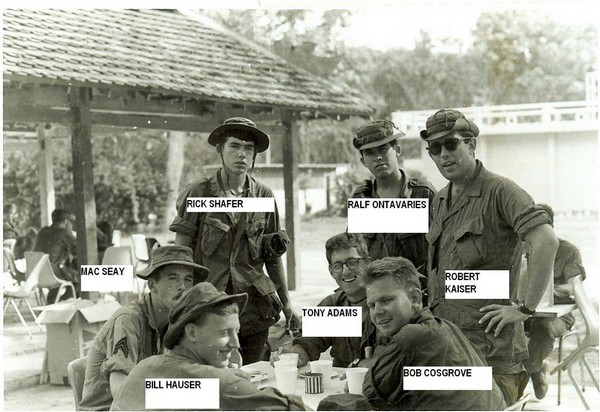 Another poor slide copy shows the Hamburgers.  This is Virgil ??.
The showers were makeshift walls with structures with water tanks above and gravity feed
Arnold mentioned the hooches with the metal lockers.  Here is a picture of a beer party we had during stand down which shows the lockers as well as a few drunken grunts.
 Finally, during a stand down in May they held a memorial service for Rosenberger and Osborne who were killed in the 4 Apr 1968 battle.  At the time I did not know the names of the others KIA that day and I don't remember if this service was for just Ozzy and Rosie or others as well. In any
No story of Dau Tieng would be complete without the sign showing the Bravo Area.  I have this picture in my collection but can't explain why it is dated Jan 68 when
 Another picture of the Bravo sign in color but poor

focus shows a close up of Company Commander and 1st SGT names. Arnold already has this picture in the collection and story blog.  I took this with a Pentax Spotmatic 35MM camera using color slides. The slide quality was good but the scan became a bit blurry.
 All in all it is good to remember some of these times and reflect that not every experience was bad.  Many good times were had in spite of the often-terrifying times. It was a great group of guys who will always remain in my memory.  I Have since identified back row 5th from left as Rich Shafer.  Still can't remember front row right name.
12 comments
Comment
from: Sgt. Rick [Visitor]
We were there in 1966, the initial 4th Inf. units in War Zone C. B 2/12, 3rd platoon. Dau Tieng in your pics looks like a modern city compared to our landing there two years earlier. God Bless all of you. Our company suffered high KIA and WIA numbers. Rick Bonekemper, E5
11/29/12 @ 22:29
Comment
from: Mike Hauser [Visitor]
First picture I have seen of my cousin who was in B co. at the time I was there. Bill Hauser arrived in country after I was there about a half year. Are you sure Ted Hauser isnt Bill. Thanks for the photos.
05/08/13 @ 12:19
Comment
from: Mike Hauser [Visitor]
First picture I have seen of my cousin who was in B co. at the time I was there. Bill Hauser arrived in country after I was there about a half year. Are you sure Ted Hauser isnt Bill. Thanks for the photos. -- Mike Hauser
05/08/13 @ 12:21
Bill is correct. I guess my memory has faded over the years. In those days most people were remembered by nickname or last name. I had tried to build a directory of names from memory. As I recall Bill was quite an artist in drawing. Would be great to get his email.
05/16/13 @ 08:01
Just noticed that I had name correct in beginning picture but wrong on the platoon picture. He is also in the party picture with the shaving cream goatee at one of out stand down drunken parties.
05/16/13 @ 08:03
Comment
from: Natalie Caula [Visitor]
My uncle Wilfredo Zamora, who went by "Cusi" was a cook at Dau Tieng in the 25th Infantry, 77 Artillery. He died on the attack on July 4, 1968. Did you ever meet him?
05/24/13 @ 14:40

Natalie, I don't recall meeting your Uncle but he will be added to my list of fallen brothers when I pray that they rest in peace for ever.
05/26/13 @ 07:55
Comment
from: Sgt. Rick [Visitor]
God Bless to all of those who never made it home and to their families. We had too many in B 2/12 in '66-'67.
Wicked bad times Soui Dau, Soui Tre, Fire Base Gold.
Best to all that made it home.
Sgt. Rick
06/04/13 @ 23:23
Comment
from: John Grigsby [Visitor]
Wow, my friend, this was a great walk down memory lane about 1SG Clary, Badass company area, our fellow grunts, the snack bar, and the hootches, and the swimming pool.
I was in 1st platoon. I have pictures with names of some of our guys, which included Charles Wickliffe from Louisville, KY, and Charles Hoard from Memphis, TN, and Acie Gray from Selmer, TN. I am from Knoxville, TN. I remember the Tet Offensive being a real heart-breaking time for our company and battalion. Lots of KIA's.
Glad to see you made it. Welcome home. I hope you will e-mail me. Who would have ever thought back then that we would have computers and cell phones and all this other stuff with which to communicate?
Take care of yourself.
08/04/13 @ 22:51
Comment
from: Sp5 Paul Croft [Visitor]
in the Pool Picture Look at the Diving Bord that is a Huey Rotor That i cut in half caus we couldnt get a real bord i cut 2 during the Year i Was there
NCOic Special services.
08/07/13 @ 21:08

Just made contact with another vet. The platoon picture with names shows Gary Hoops but it is actually Gary Ascher. Also Gary thinks the guy on far right first row is Arlie Whitlle. I am working on tagging all my pictures from photo album and will forward to sarge to replace current album.
Adams 12/12/2013
12/12/13 @ 08:58
Tom Tremmel here. Just stumbled onto your web site and it's really a walk down memory lane. Hope everyone is doing well.
05/13/14 @ 21:53
Comment feed for this post